This is my first time participating in Pouring Your Heart Out.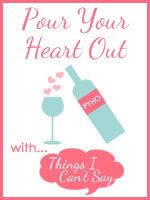 Lately, I've had a bit of depression and anger.
This is why...
So many pregnancy announcements on Twitter.
So many loss announcements on Twitter.
Every time I see a pregnancy announcement, I think of the day I lost Katelynn.
Every time I see a loss announcement, I think of the day I lost Katelynn.
Dealing with a close family member suffering from infertility becoming pregnant and talks about it all the time. Don't get me wrong, I'm so over-the-moon happy for her and can't wait to see her when the baby is born, but it's just hard.
Having to deal with infertility
Getting my fucking period every month.
Having to take my temperature and check my cervix every morning. Month after month after month.
Having Hubster bitch all the time because I'm not working enough due to being on light duty. Not my fault dude...get over it.
Having to do stuff for the family on my days off. I just want a day to myself. I want to just have the opportunity to sit on my couch and watch TV all day. I don't want to clean the kitchen, clean the bathroom, or do a load of laundry.
Having to deal with stupid co-workers. They are all childish and piss me off. I love my job, just hate the people that work there.
Not having my knee feeling any better after 10 weeks of the injury. Hopefully the new doctor will help me.
Paying bills with only the funds from half of a normal paycheck for me. It's really financially draining.
So as you can see, I have a lot weighing me down.
I pray I can get out of this funk.