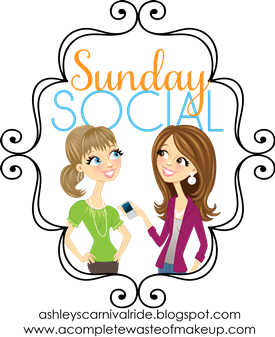 This is my first time doing Sunday Social. I got the idea from Southern Sunflowers and Coffee Beans who links up with A Complete Waste of Makeup for the Sunday Social!
This week the theme is 4's:
1. Name 4 jobs you've had in your life: Rides operator supervisor at Paramount Kings Island, cashier at Walmart, restaurant manager at a fast food joint, and a supervisor of patient transport at a hospital.
2. Name 4 movies you would watch over and over:
3. Name 4 places you have lived:
Lebanon, Ohio; Cincinnati, Ohio; Anchorage, Alaska; and now Minneapolis, Minnesota.

4. Name 4 of your favorite foods: My mom's meatloaf, any kind of salad, macaroni and cheese, and anything with quinoa.

5. Name 4 things you always carry with you: Debit card, iPhone, chapstick, and Nookster.

6. Name 4 places you have been on vacation: Southeast Alaska, Cumberland Lake in Kentucky, cross country road trip from Ohio to Alaska, and another cross country road trip from Alaska to Minnesota.